I'm hearing so much discussion about heart and fight and fans and other impediments that cost the US the Ryder Cup this year. But, frankly, none of them are totally convincing. I'm sure there may be some truth to each of those. But they can't be the whole story. I admit that I'm a US fan, but I'm used to having my teams lose (Padres and former Chargers fan), so I'm not so bothered by that. But for the sake of keeping the Ryder Cup a fair fight, I'm concerned about a startling trend:
Foursomes has become broken in favor of the home team.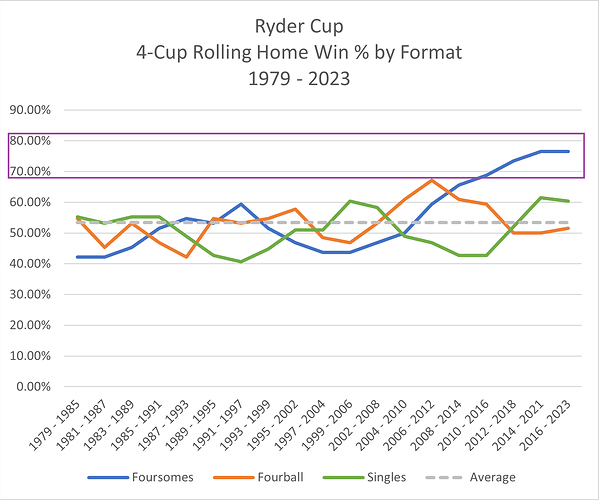 Note: there is manual entry here, so there may be mistakes, but I tried to double- and triple-check myself on it. I used 4-year rolling %s to smooth out the graph a bit.
The win percentages for the home team in the last decade of Ryder Cups are as follows:
2023: 87.5%
2021: 75%
2018: 75%
2016: 68.75%
2014: 87.5%
In total, that's 78.75%. Compared to 48.75% for fourball and 59.2% for singles over the same time-frame. Based on the W% for each format from all Ryder Cups from 1979 - 2012, the odds of the home team having a W% over 67% for any format for 5 consecutive Cups is about 1 in 10,000.
It's also worth noting that foursomes has made up a disproportionately large percentage of the total margin of victory in this time as well. Note that foursomes makes up 8 of 28 points available, or ~29%.
2023: foursomes margin = 6, total margin = 5 (120%)
2021: 4 vs 10 (40%)
2018: 4 vs 7 (57%)
2016: 3 vs 6 (50%)
2014: 6 vs 5 (120%)
That means the away team may have actually won 2 of the last 5 Ryder Cups if foursomes wasn't even played.
I feel pretty confident saying this is not coincidence. Unfortunately, due to a lack of data/time/expertise, I'm now a bit stuck on the "why."
Fans? Why doesn't that affect fourball or singles? Why didn't it affect them from 1979 - 2012? Heart/fight? Why do similar groups of players not do better on the road? The only explanation that seems reasonable to me is setup. I can't prove it, but I can theorize:
For one, it seems like it's no coincidence that this trend has become so overwhelming for both teams after the Americans formed the Task Force in 2014. Europe has been using analytics for a while, but now that the Americans have caught on, too, we're seeing the home team dominate every time.
According to Letzig's Latest, course setup likely doesn't account for much on the whole, but foursomes match play is so different from individual stroke play. And of course an obvious question is, "Why does this affect foursomes but not fourball or singles?" I suspect what makes foursomes unique, especially in match play is:
You can specifically exploit the strengths of each individual you send out: Put par 3s predominantly on odd numbered holes at the optimal distances for your best approach players, put the best driver holes on evens for your mashers, etc.
With the right partner, you can hide the weaknesses of each individual on your team. Suck at long par 3s, but love to smash driver? Partner with someone who complements that.
You don't need to win by a lot of strokes. You just need to win the right holes more often and be relatively even on the holes that aren't perfect fits.
Fourball likely doesn't suffer as much from this because if you put 2 good golfers in a best ball format, they're going to get birdies no matter how poor the course fit. Regardless of strengths and weaknesses, one of the two players will probably get pars or birdies on most holes.
Singles may be exploited a bit by home field advantage, but, as Letzig has pointed out, individuals' scores are very random anyways, and you don't get the pairs to help hide certain weaknesses. Think how much easier golf would be if you struggle with 175 yard approach shots but someone else took the tee shot for you on 3 of 4 long par 3s each round? Or if you have a wild driver, if someone else took the tee for you on those holes with hazards and narrow fairways.
I'd love to hear more about this from someone with more data and better tools for crunching golf data. I strongly suspect that course setup disproportionately affects foursomes. And it would be fascinating to see how course setup affects foursomes compared to singles and fourball with more hard evidence. If you read this far, thank you!
/rant
(edits: margin of victory stats, typos/clarification)